Our 3D printers have an assembly inside the print head called an extruder. This set is made up of various components that will allow the processing/movement of the filament, and today we will focus on the best extruders on the market.
Before we begin we would like to thank the collaboration of our colleagues at 3Dboom (Telegram group here ) and 3D-Informatik (contact here) which have provided us with some of the extruders included in this article. At the end of the article you will find more information about them.
We have to say that we are not going to review in depth between them since either we have already done it before or we are preparing a more detailed review of them, the objective of this article is to review the most popular ones to help you identify which would be the most suitable for your machines.
As always, before continuing with the article, remind you that you can join 3DWork in our Telegram channel full of people upset by 3D printing, or on our social networks Facebook, Twitter, Instagram.
Brief introduction
We are going to divide the print head into two parts, depending on the type of print head these parts can be more or less integrated or separated:
Extruder, is the set of parts/components that allow the processing/movement of the filament. Normally it is formed by…

motor, it allows to move the gears that push the filament
traction gears, they are in charge to push the filament to the hotend
Hotend, is the part that is responsible for "melting" the filament to deposit it in our printing area, forming layers that will generate our printed figures . The hotend is usually made up of different parts…

sink and barrel, usually the "cold" area of ​​the hotend that prevents the heat generated in lower areas from causing blockages in the flow of filament
fuser, thermistor, heating cartridge and nozzle is the so-called hot zone that is connected through the barrel to the rest of the assembly. The thermistor allows the control of the temperature in the cartridge that is distributed by the fuser to the nozzle that acts as the output of the filament at the melting temperature, depositing it to build, layer by layer, our printed pieces.
Normally we can divide the types of 3D print heads into two types:
Direct extrusion, as its name indicates, the extrusion system is directly connected to the hotend.
Bowden extrusion, differs from the previous one in that the extruder is not directly attached to the hotend and the filament moves between both parts using a PTFE tube.

PROS
CONS
Extrusión directa
Reduced distance to the hotend, allows greater control in the flow of the filament in addition to being able to use motors that are more contained in size and weight.

Better behavior with flexible filaments.
Greater weight in the assembly that can cause problems in the kinematics if the chassis/kinematics assembly is not properly adjusted.

Higher temperature in motors.
Extrusión bowden
Light, by separating the extruder part from the hotend we have a lighter kinematics assembly that allows us greater acceleration and printing speed
Oozing or Stringing in our pieces (threads), in this system it is more complicated to control the flow of the filament in an agile way, creating complications to control this type of artifacts.

Friction, given that we normally have an extra distance between the extruder and the hotend, this has to travel through a PTFE tube that can offer some friction, in flexible filaments such as TPU printing becomes more complicated.

Filament change, although it depends on the system/adjustment/expertise, again this extra distance makes it more complicated to change between filaments, especially during printing.
The best extrusion systems in 2022
If we seek to improve our prints, one of the components that we must review is the extrusion system since it can improve the quality and speed of printing.
We are going to review the most popular options of extrusion systems trying to show their evolution from the most traditional to the most current.
As we have commented at the beginning, we are not going to carry out a detailed analysis of them if we do not repair their most important characteristics, their favorable points and those that are not so much.
BMG
Powered by Bondtech and being one of the most popular, which has created the appearance of countless clones, many of which are of dubious quality, is one of the most widespread for having a good grip, allowing to work with flexible materials thanks to its tension adjustment in addition to its contained price.
It can be used in direct or bowden print head configurations although using it in direct since it uses NEMA 17 motors penalizes with a bulky and heavy print head.
Where to buy BMG extruder?
E3D Hemera
Following our list of the best extruders in 2022 we will find the E3D. He is certainly a veteran in 3D printing, and in his day they "revolutionized" heads with this Hemera model which has always been one of our favorites for certain machines.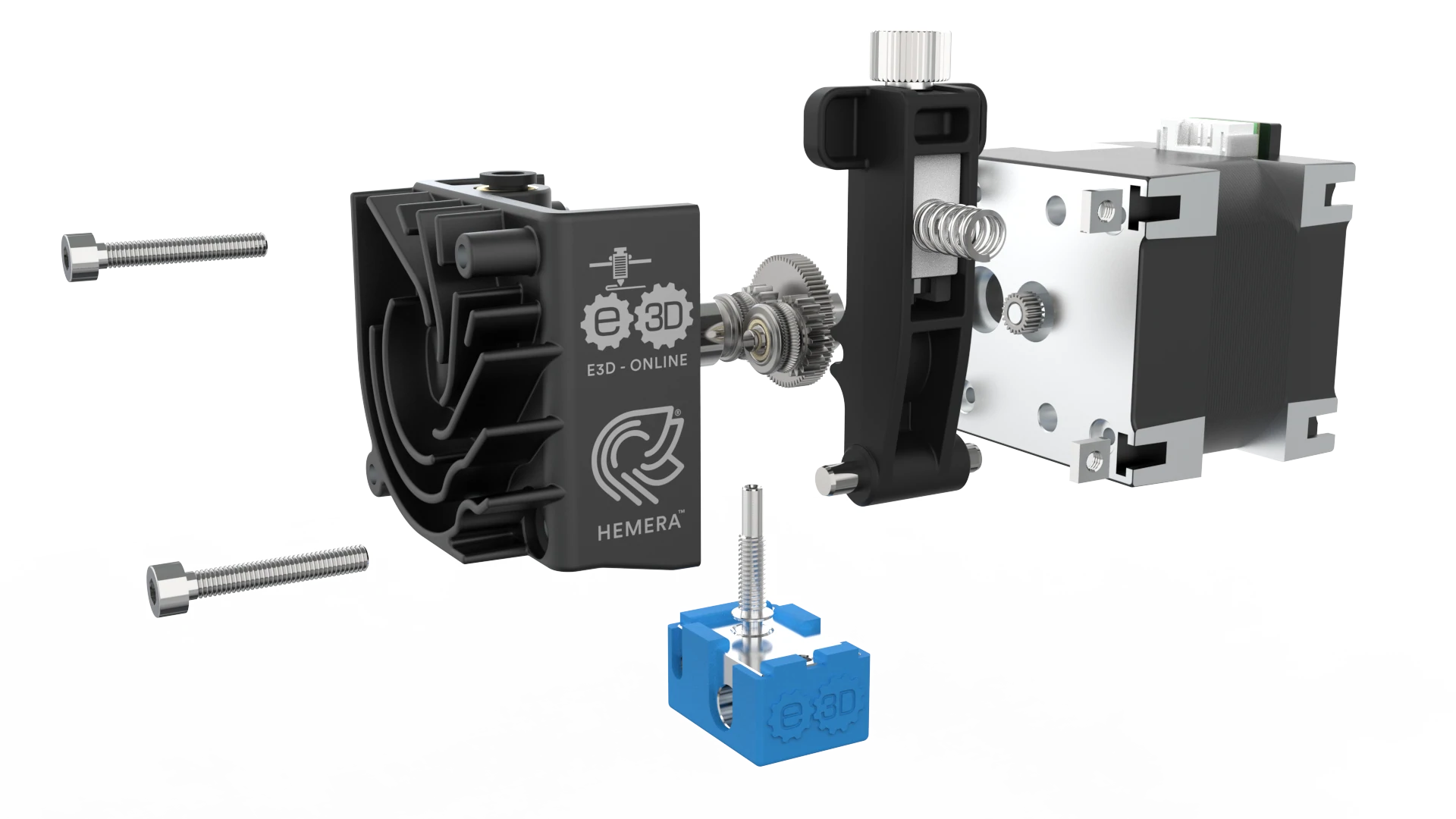 We could consider Hemera as an "ultra-direct" print head since the thrust system is practically at the entrance of the barrel, so the control and torque is incredibly good together with the compatibility in use, except for the barrel, with components V6 standard.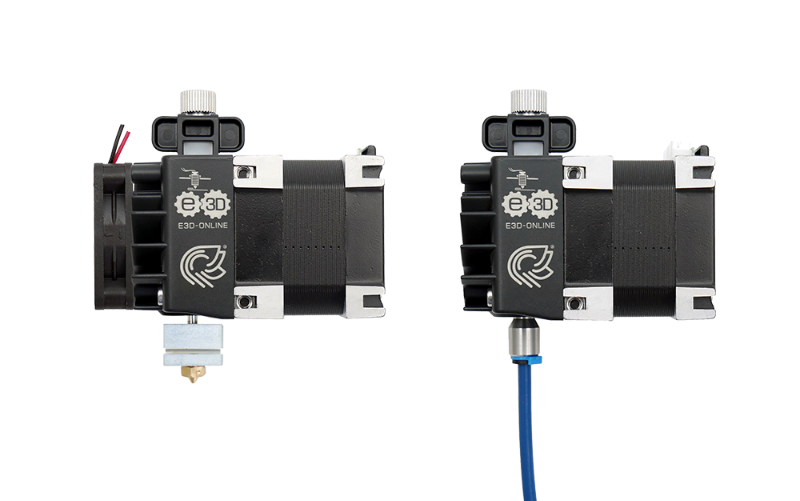 Although we have commented that direct print head systems, one of their disadvantages is their weight, systems such as the Hemera, being compact and simplifying the number of components, make them have a contained weight in addition to a center of gravity optimal that helps in inertia.
If you need more information you can review our review here.
With the launch by E3D of its Revo hotend, the Hemera range was updated to benefit from the Revo improvements, launching the Revo Hemera and the Revo Hemera XS, the latter being more compact as it uses a motor narrower, pancake, which greatly reduces the size and weight of the set.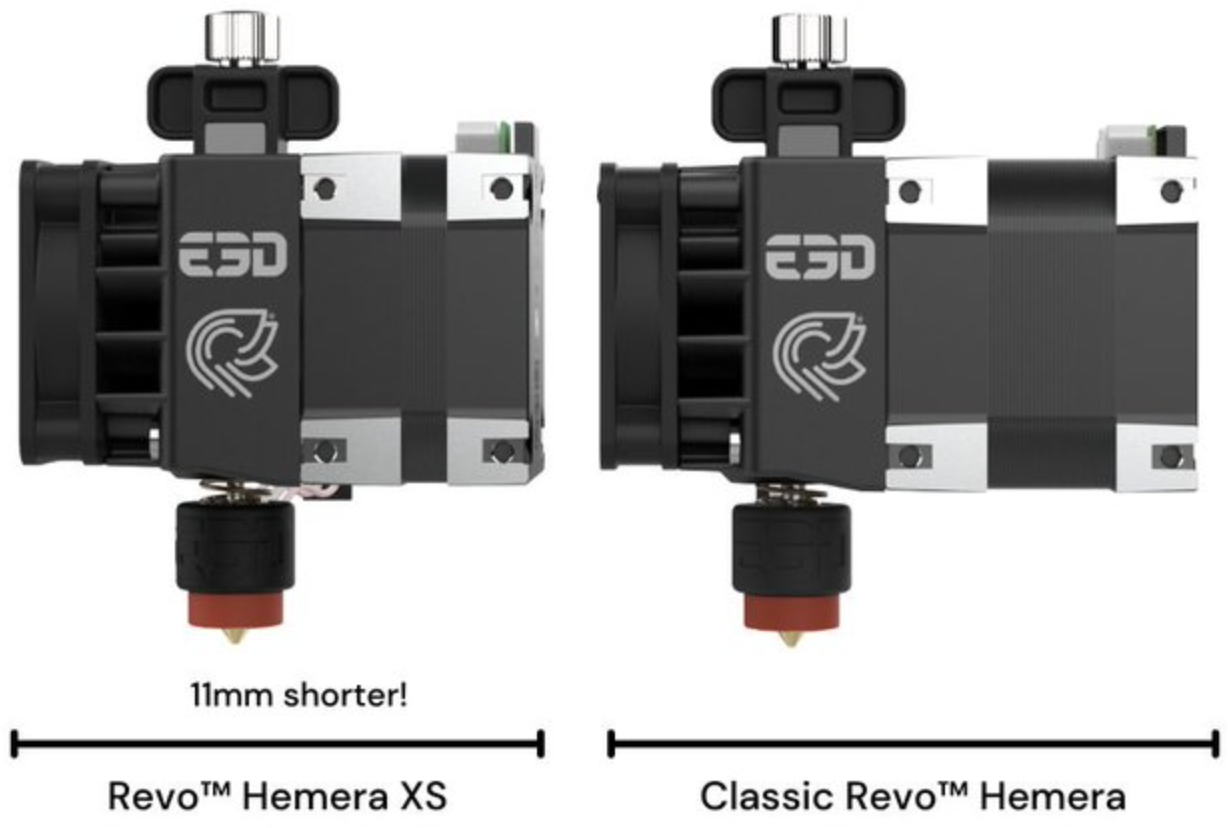 Where to buy E3D Hemera extruder?
BIQU H2
Following the concept of the E3D Hemera… Bigtreetech launched its BIQU H2, an excellent and compact ultra-direct printhead, and this It could not be missing from our list of best extruders.
With a weight of 211g, a ratio of 7:1 and a grip of 7.5kg together with its approximate flow of 600mm3/min make it an excellent alternative for machines with a simple Z-style motor. Cartesian or machines where we do not want to sacrifice speed while maintaining a direct extrusion system.
You have a full review here.
BIQU H2 v2
Given the popularity of the original BIQU H2, they have recently re-released a new version of it, improved with, for example… some metal thrust gears to change the orientation of the hotend.
BIQU H2O
Once again they surprised us with the recent BIQU H2O which, taking advantage of the interesting characteristics of H2, integrated liquid cooling to be able to work up to a theoretical 500º.
This version has a Titanium barrel, and an improved fuser block or cartridge to allow high temperatures as well as a 0.4 hardened stainless steel nozzle.
Requiring water cooling, the kit consists of the BIQU H2O unit and a 24V mini water cooling pump, it fits say that in our tests it has not been excessively noisy and its contained size allows it to be installed almost anywhere near the printer.
Where to buy BIQU H2 extruder?
Orbiter
We could say that it has been one of the great revolutions in recent months in the field of extrusion, so we added it to the list of best extruders.
Orbiter uses an orbital gear system that allows a ratio of 7.5:1 in its thrust while maintaining an extremely compact design compared to more traditional systems.
Another characteristic of the Orbiter is that it uses a compact NEMA 14 motor that together with the orbital gear system allows a great torque (8-10Kg) to move the filament without problems in addition to leaving the content of the set in about 135g (Orbiter 2)
It also uses dual 12mm gears, normally 8mm BMG style, which allow a greater grip on the filament. In addition to having a metal outlet that improves the use of flexible or abrasive filaments (Orbiter 2).
In our case we use this type of extrusion system in our machines, either in version 1.5 or 2.
Where to buy Orbiter extruder?
Sherpa Mini
With the appearance of the Orbiter other designs appeared such as the Sherpa which is a compact and light extruder, Sherpa Mini, and open source.
One of its advantages is that it uses the components of a BMG with a compact NEMA 14 like Orbiter. The entire set weighs in at an impressive 127g with a 5:1 ratio.
It is an interesting alternative for those who have a BMG since they only have to get hold of a NEMA 14.
There are other similar options like Sailfin and HextrudORT which are not as widespread but they can be very good alternatives.
Bondtech LGX
Being Bondtech a reference manufacturer in extrusion systems for their BMG, they recently brought their evolution to the market… the LGX (or Large G< /strong>ears eXtruder) which incorporates 18mm thrust gears that allow a greater contact surface with the filament, greatly improving the grip, all moved by a powerful NEMA 17 motor.
An interesting aspect of this LGX is that we have ultra-direct mounting options as well as direct mounting of different hotends as well.
Bondtech LGX Lite/Light
Together with the LGX, the LGX Lite was launched, which is considerably more compact and lighter (141g) than we can mount with a NEMA14 and is undoubtedly a great alternative to the Orbiter, Sherpa or similar.
In our case we have this variant installed on some machines giving excellent results, as always the materials used in its construction are of the highest quality and this is evident in its smooth and powerful operation in addition to reliability and durability.
Where to buy Bondtech LGX extruder?
So, which extruder should I choose?
It is very complex to give an answer given that there are many parameters to take into account in each case, such as the type of machine and modifications to be made to adapt the extruder, cost, weight, requirements that we seek.
In any case, we make some suggestions, from our point of view, which may be the most appropriate in each case:
BMG, we would choose to suggest this type of extruder if our machine is bowden and the one our machine has is not very good quality.
E3D Hemera, is an all-terrain that has many mods to adapt it to almost any machine >. Although it is not a cheap print head we can assure you that given its quality in the long run both for the possible time and material in failed prints and in durability in the long run it more than compensates for that extra cost< /strong>. Its compatibility with hotend V6 and Revo, depending on the version, is a point in its favor for access to spare parts and improvements.
BIQU H2, another all terrain although in this case with some limitations with respect to the previous one in terms of volumetric extrusion capacity but on the other hand with its small size and weight it can allow us to obtain an extra of speed besides being perfect for machines with a single motor in Z. On the other hand, the use of hotend parts that are not standard V6 or limitations with some types of TPU are the negative points in this print head.
Orbiter, for us one of the most versatile due to its power, reliability, low weight and compatibility with machines given the amount of mods that we can find. By being able to use practically any hotend it gives us more versatility to the set.
Sherpa Mini, although perhaps a little inferior to the Orbiter in several aspects its simplicity and low price to assemble it are a great alternative.
Bondtech LGX, another extruder that we have loved and worthy successor of the mythical BMG strong>. On the one hand, the LGX version seems to us to be an alternative to the E3D Hemera with possibly a higher cost and, on the other hand, certain limitations when working with flexible filaments. On the other hand, the LGX Lite is an excellent alternative to the Orbiter with an extrusion system that seems better to us, on the other hand, it is significantly more expensive and its behavior with TPU is usually more problematic.
Acknowledgments
We would not like to end this article without once again thanking the collaboration of our colleagues at 3Dboom and 3D-Informatik, two specialized Spanish 3D stores with great professionals who are to provide a personalized attention service with any doubt or question.
The colleagues at 3Dboom, located in Madrid, have an excellent online storeof 3D components have also recently released some excellent kits of the MMU2S Ryper.
On the other hand, they also have a 3D printing service, technical service for the adjustment/assembly of 3D printers or components, and machining work.
They are also always available via your Telegram group to help
3D-Informatik also located in Madrid offers specialized services in 3D printing from design to FDM/SLA printing to repair/adjustment.
On the other hand they have an online store with a wide variety of top brand components with a reliable and fast delivery service throughout Spain.
You can access their website as well as contact them using Telegram.
And this is it, we hope as always that our article Guide on the best extruders for 2022 you liked it.
Don't forget to visit other interesting articles at 3DWork.io< /a>: